It is that time of the year again! The time when you wake up to a fresh blast of bone chilling temperatures, mounds of snow and black ice! It is everyone's favorite season, winter! Time to unpack the snow shoes and winter jackets as old man winter is right around the corner. I will be giving you everything you need to know about this winter. All of this forecast covers the months of December January and February.
I have decided to put a different take on winter forecasts. Instead of just providing you with the forecast I went in detail and depth on exactly how and why I formulated my forecast the way that I did. I will also be writing a blog at the end of winter detailing what I got right and wrong in order to hold myself accountable.
Just a reminder that seasonal forecasting is much different compared to day to day forecasting. One bout of cold weather or one storm can make or break a forecast for an entire season. Seasonal forecasting is very difficult and forecasts are not meant to show what will happen every day or winter. It is more of a generalization of what the months will feature. There will be warm and cold spells and weeks without snow and weeks where all it does is snow. This forecast is an attempt to compile all that and average it out. Thank you, now lets get right into it!
If you want to skip all the technical stuff and skip right to the forecast feel free to scroll down to near the bottom where I review precipitation, temperature and of course snowfall!
El Nino, La Nina, or Neither?
The El Nino Southern Oscillation (ENSO) is a measure of water temperatures off the western coast of northern South America. Above is a graphic depicting the different regions of ENSO. By far the most impactful of these is the Nino 3.4 region.
You may be thinking, how can our neck of the woods be impacted by the southern Pacific Ocean.
Depending on the water temperature anomalies, trade winds can dictate pressure increases or decreases across northern Australia. These pressure changes strongly correlate to the orientation of the mid-latitude jet stream. This is the jet stream that is directly responsible for our cold weather and storms.
When water in ENSO 3.4 region is cooler than normal our jet stream becomes more stabilized. The overall pattern becomes more zonal with not as many phasing storm and overall mild weather on the east coast. When the water is warmer than normal the opposite happens. The jet stream becomes more volatile with more dips and higher storm chances.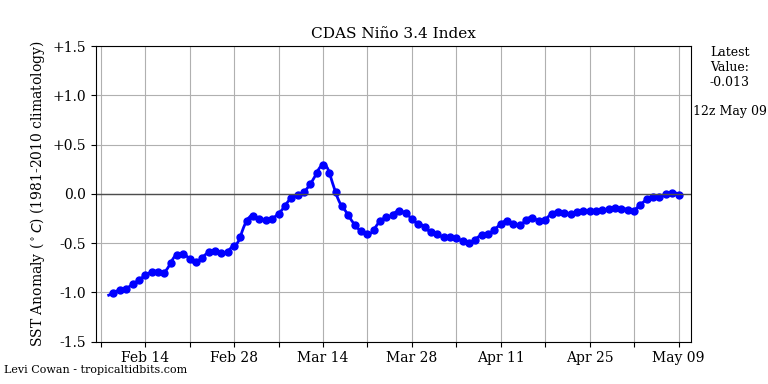 This graph is depicting the sea surface temperature anomalies in the important Nino 3.4 region. Overall the region is not really above or below normal and looks like it will stay neutral. We have models that predict what way it will swing.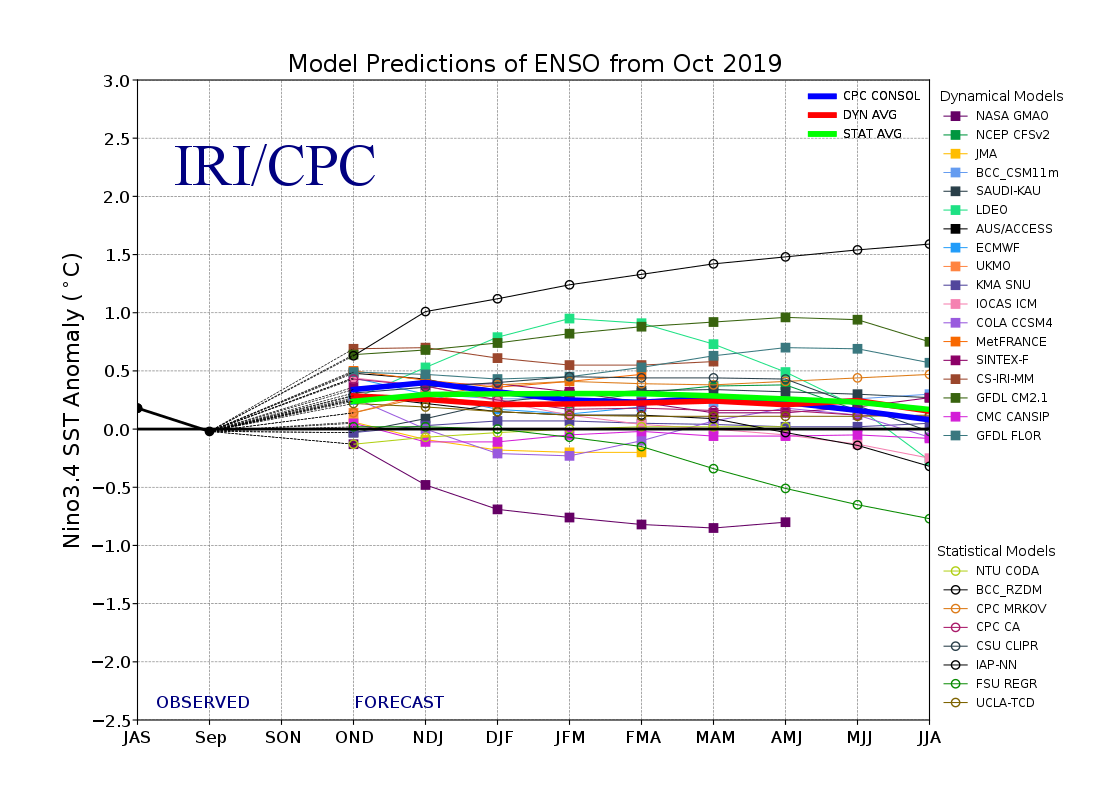 As you can see based on the models, we look to stay in a very weak El Nino or neutral phase. What does this mean exactly? Well, this means that other oscillations will have a much larger impact on our weather than usual, making this an extra difficult forecast. Oscillations like the NAO, EPO, and PNA will have a much larger role in being the driving forces of our weather this year.
You may remember that last year was an El Nino year. Everyone's winter forecast was calling for a lot of snow and cold. The winter ended up being very mild for most with little snow. Why is that? Why should we trust ENSO to give us an idea of what winter will be like?
Last winter was a very special case. Although we had an El Nino, other unforeseen factors were responsible for spoiling winter last year. These include a split jet stream in the Pacific, that made the pattern much more volatile and being stuck in the wrong Madden Julian Osculation (MJO) phases. There are always unforeseen circumstances which is why seasonal outlooks are not perfect.
ENSO should not be trusted 100% but in every winter forecast it is a very good starting point on generally what we should expect from winter.
Pacific Oscillations
Oscillations are basically measures of pressure heights or falls in a certain region. They have large implications of our overall weather. A big point to be made about oscillations is that they do not impact the weather, weather impacts them. Another word for Oscillations is teleconnections.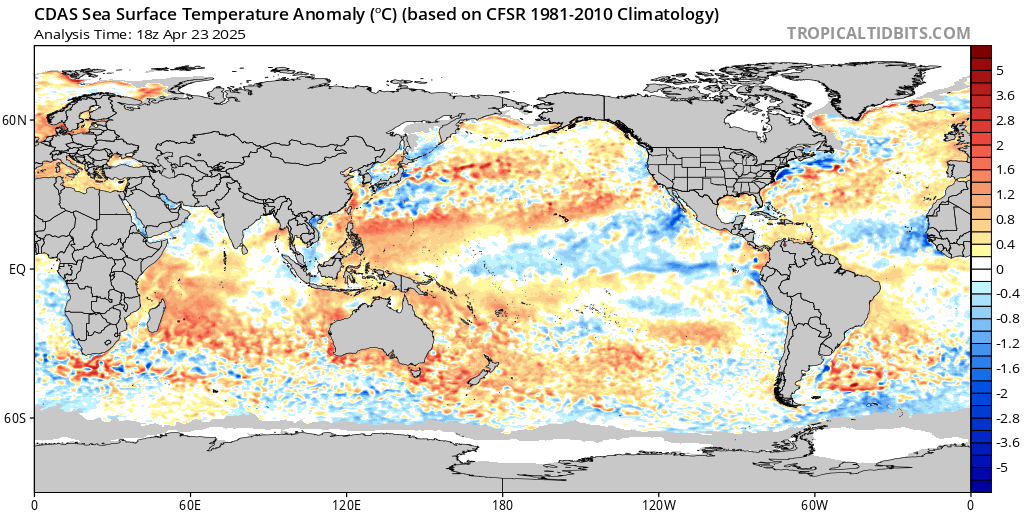 One of the largest driver in our overall weather is the Pacific Decadal Oscillation. This measures warmth of water off the Alaskan Coast over the course of about 10 years before switching. Currently we are in a positive PDO phase and have been since 2006. As you can see the water off coastal Alaska is anomalously warm for this time of year, indicating a positive PDO.
Overall, a positive PDO creates cooler and wetter temperatures in the South East with warmer and drier temperatures in the north west of the country.
This Oscillation has a direct correlation to the Pacific/North American index (PNA). Above I have included a take on how the PNA affects the continental United States Weather. As you can see, there is ridging in the west and a trough in the east. This gives the east coast higher chances for the mid-latitude and subtropical jet to phase for bigger storms.
Atlantic Oscillations
The North Atlantic Oscillation is not as much a driving force of our weather as it is an enhancer of the other Pacific Oscillations. It is considered the hardest Oscillation to predict seasonally.
A negative NAO generally does not bring cooler temperatures but it locks cold temperatures that are present in. Overall it promotes a stormier patter. However, the big part of the NAO that affects our weather is the blocking.
When the NAO is negative pressure height anomalies in Greenland are above average. This essentially creates a block and traffic in the Atlantic. This slows and strengthen storms that come up the east coast. A pressure gradient will create a stronger storms with higher winds than normal. Blizzards are a real possibility this year.
The CFSv2, which nailed the November cold, is predicting a west based negative NAO which leads me to believe we may see more of a -NAO as compared to recent years.
In recent years the NAO has remained positive and we have still have many rounds of cold and snow. Hence why in my opinion the NAO is not important as the other Pacific Oscillations.
The last important region to look at in the Atlantic is the sea surface temperatures off of the Atlantic coast. It can also give us hints to storm strength and how the NAO region sets up.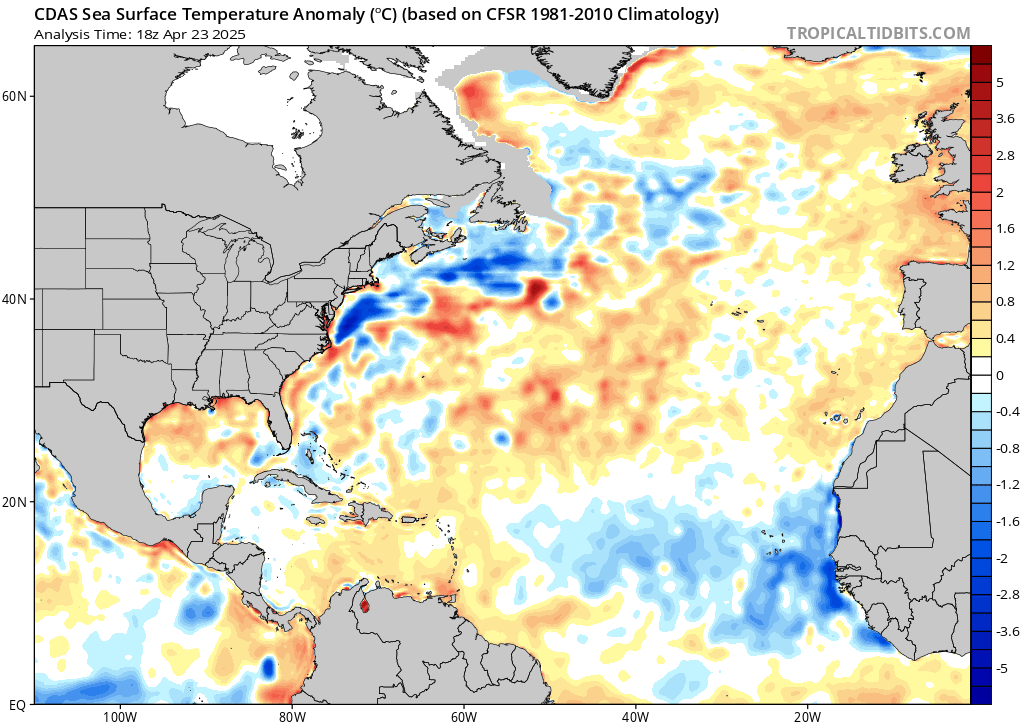 Around the Greenland area waters are slightly warmer than average. This would tend to promote -NAO development through the year. In my experience -NAO's like to set up right around the spring time so I'll keep a watch out on that.
As you can see, off of the northeast coast there are well above normal temperatures. These temperatures can serve as fuel for storms that are forming off the east coast. Warmer temperatures can hold more water content in turn creating storms with more precipitation available.
These strengthening storms over warmer waters are catalysts to become blizzards with strong winds. I suspect the east coast will have at least one if not two blizzards this year.
Other Factors
Snow cover over arctic regions is always a good indicator of cold air supply. Generally, it is believed that Siberian snow cover is a good indicator of how much cold air supply will be able to be tapped into for the winter. Currently, most of the arctic region is covered in snow and in turn we do have an anomalously strong polar vortex currently forming.
As we can see, our heights at 10mb are ranging below normal for this time of year. This indicates a stronger polar vortex as compared to normal implying a stronger cold air supply.
Even with a stronger supply of cold air, we still need it to be disrupted in order to drop down to the United States. This is something that can only be predicted with confidence about 10 days out.
With these factors it is possible to get a negative Arctic Oscillation as well. This is when the polar vortex fractures in the mid-latitudes and a colder and stormier pattern persists on the east coast.
Possible Analogs
I put together a list of a few year that are similar to what I expect to happen in the upper air this year. This is to get a better idea of what will set up where. They help us look at the past to predict the future.
This year featured cold spells and a massive cold shot from a dislocated polar vortex. Many low records were set. Not much in the way of snow this winter for the east.
This year featured a strong -NAO along with a -AO and a disrupted polar vortex. One thing I do not like about this analog is the below normal heighs south of Alaska, not likely to happen with a +PDO
This was a rather cold winter in the northeast however, the focus on lower heights off the east coast is what I like about this analog. Featured the biggest snowstorm on record for Baltimore and Boston.
More of a zonal pattern in this analog which is something similar to what i have in my temperature forecast except a touch colder. Has a -NAO and 4 snowstorms that brought enough snow to make it on the NESIS snowfall category rating. A rating system that measures the intensity of snowstorms.
This is one of my favorite analogs. Does not have a -NAO which has been difficult to come by in recent winters but still has cold and lower heights locked into the norther part of the country. Precipitation was higher for eastern half of the nation as well as snowfall. A weak southeast ridge was also present here which is what I am expecting this winter.
Those were my favorite of the bunch, however I included a few more analogs that were close when finding a combination of all of them. When averaging these analogs together we find this for temperature.
I do not believe cold will be this wind spread but focus more on where the center of the cold anomalies are in these years. This is a big part of what I based my forecast around. I believe the past will always hold clues to the future.
As for precipitation we see that these years average higher precipitation in the east with less precipitation in the west.
Now, enough of the grits and details, lets get into the actual forecast.
Precipitation
In terms of precipitation, I am signaling for below average precipitation for the southwestern portion of my coverage area. I believe this to be true due to a lack of troughs and storms in that area. I believe most low pressure systems will miss that area to the north or east.
Moving on I have most of the eastern 1/3rd of the country in above average precipitation. I believe the current drought in the southeast will break due to a slightly more active sub tropical jet stream this year. This all goes back to the weak El-Nino/Neutral ENSO as I talked about before.
Further norther I believe there will be an above average amount of clipper systems as well as a few inland runners. I personally think the amount of inland runners will be higher this year than most, similar to last year, due to the presence of a persistent but weak southeast ridge. This weak ridge may not due much to warm temperatures up however I believe it will force more storms to track inland compared to normal.
This all leads to slightly above average to above average precipitation for almost all of the east coast. Currently the ECMWF seasonal and the CFSv2 seasonal are really on board with this idea as well, supporting my initial thoughts for higher precipitation values in the east.
Temperatures
My temperature outlook features a few key points. Further southwest I believe there will be more riding than normal leading to an above average and mild winter temperature wise. This combined with little precipitation as I have forecasted makes the threat for fire greater going into next summer.
In the southeast I also expect above average temperatures due to a persistent yet weak southeast ridge. This small ridge that I am expecting to form will be enough to keep the southeast above average but not push too far as to disrupt temperatures further north.
In the northern half of the country I am expecting generally below normal temperatures. This is due to the constant polar vortex (PV) disruptions that I am expecting to occur. Considering it is only November and the PV is already struggling to strengthen is a sign that these types of things will happen through winter as well. We are expecting back to back nasty shots of mid winter like arctic air over the next week due to multiple PV disruptions that are ongoing. This causes pieces of the PV to break and fall south towards the United States.
I believe the focus of the cold will stay around the Great Lakes as they are in a good position to not be affected by the southeast ridge and in a prime spot to get in the middle of PV breaks.
Snowfall
Finally the part that everyone anxiously waits for every year, snowfall. Trending with the overall theme that I have previously described, expect slightly below average snowfall in the southwest. They have gotten off to a fast start snowfall wise this year however, I expect that to cut off some in December.
For the northern tier of the country I'm expecting slightly above average to above average snowfall. The upper mid-west around the Dakotas and Minnesota has gotten off to a quick start to the snow year. I expect most of the rest of their snow to come off fast moving clipper systems for the rest of the year. The presence of multiple PV disruptions will keep them very cold yet dry.
Further east I expect the most snowfall to be over the Great Lakes region. This is not due to lake effect either. Personally I think the lake effect cuts off earlier than anticipated this year due to below normal temperatures lowering the lake to temperatures below levels which can support convective development. I believe most of their snow will come from phasing clipper systems and coastal storms that ride directly along the coast or a bit further inland.
As for I-95 snowfall I believe there will be a few large systems this year as there is every year. It does not take much to put this area above average, so this is why I decided to put this area into slightly above average snowfall.
Overall, expect this winter to be slightly harsher than normal in the north and a bit more mild in the south. Of course for most areas one cold or warm spell or one storm that hits or misses can make or break the seasonal forecast. This forecast is made just to be a general overview of how the winter as a whole will be. Check back after winter is over to see what I got right, what I got wrong and why I got it wrong. I will be making a blog post detailing what I missed and what I can improve on in an attempt to hold myself accountable. Anyone can make a winter forecast, not many can explain why their forecast is the way it is or hold themselves accountable after the forecast period is over.
Throughout winter be sure to follow me @MikeBWeather for the latest updates on storm and model analysis. Thank you for reading my forecast!