PM– A powerful frontal passage traversed across the country Thursday afternoon and night. Along with this cold front came thunderstorms with a few tornadoes, and many reports of damaging winds. Behind this front a period of cooler and calmer weather is expected to take over for most of the United States.
Thunderstorm Analysis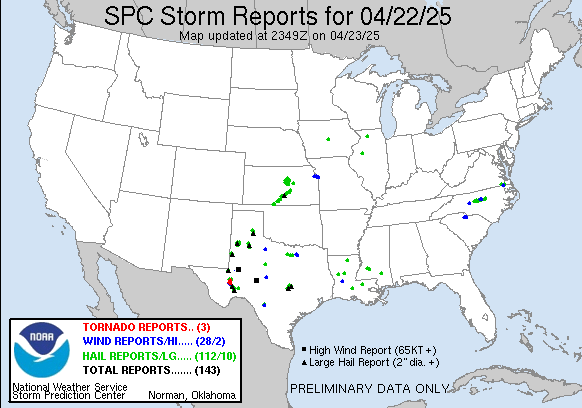 Overall the most prominent report was damaging winds. All of these wind reports show where gusts were recorded at 60mph or more. The tornado threat did not pan out as planned as there was only one long tornado report.
Things like this happen especially for the east coast in November in low CAPE high shear setups. There was just not enough spin in the atmosphere for individual cells to spin up. That is a good thing as this situation could have been much worse with a possible tornado outbreak.
Locally there were many downed trees and power lines. Gusts were recorded upwards of 75mph in some areas and storms which produced some moderate damage.
Power Outages
Four states reported major outage events last night. These states included Virginia, Pennsylvania, New York and Maine. Nine other states reported minor outage events. All throughout the northeast many homes were damaged and lost power due to downed trees and power lines.
Many school districts closed in Pennsylvania, New Jersey and Connecticut due to downed trees and loss of electricity.
Currently only New York, Pennsylvania and Maine are reporting major outages with about 400,000 without electricity. Power is expected to be resorted for most in the next day or two.
Past this event, expect cooler than average temperatures for much of the continental United States as a cooler more zonal pattern sets in. Fun fact, this morning, before the from traversed the whole country, eastern Maine was the warmest spot in the United States besides southern Florida. Quite an incredible feat, but that defines fall.
Overall, Over 700,000 lost power as Halloween Storms traversed the East coast. It was an incredible event that does not happen often. Further down the line there are a few snowstorm threats to watch next week. I will have more updates on those as we get closer. Until then follow me on twitter @MikeBWeather for the latest updates. -Michael Barletta