(PM)- Hurricane Dorian has once again strengthened to a major hurricane just hours before anticipated landfall in the Carolina's. Extreme storm surge, flooding and high winds are expected. Landfall is currently anticipated in the Outer Banks.
Overnight, Dorian ran into a bit of wind shear, which can prevent a hurricane from strengthening. Instead of ripping apart the hurricane it helped outflow and vent its clouds northward. The storm briefly fell to a category 2 but the National Hurricane Center upgraded the storm back to a category 3.
Anticipated Landfall
The National Hurricane Center anticipates Dorian to ride along the coastal Carolina's before making landfall in the Outer Banks. This is a possibility but with wobbles, landfall can occur much sooner than anticipated. In my opinion landfall is possible by late this afternoon in Myrtle Beach, South Carolina, if the eye wobbles west.
The latest spaghetti models agree with the NHC (National Hurricane Center) on Dorian's track, staying just southeast of land until the core finally comes ashore along the Outer Banks. There also is the potential that Dorian barely scrapes by without landfall but that is becoming less likely by the hour.
Aside from the southeast the storm will take a track south of the 40N 70W benchmark off of New England. Dorian will then likely make landfall as an extratropical storm in Atlantic Canada.
Winds and Tornadoes
Dorian's eye is now only about 15 miles off the coast of South Carolina. Just north of Charleston is getting hammered with heavy rain and high winds. The core of the storm is still yet to come ashore where the Major Hurricane force winds are.
The National Weather Service is expecting gusts of 120-130 MPH (Miles per hour) along Carolina's coast. Further inland you can expect strong and damaging winds as well. Depending on how far inland the core makes it will determine the wind strengths of specific cities.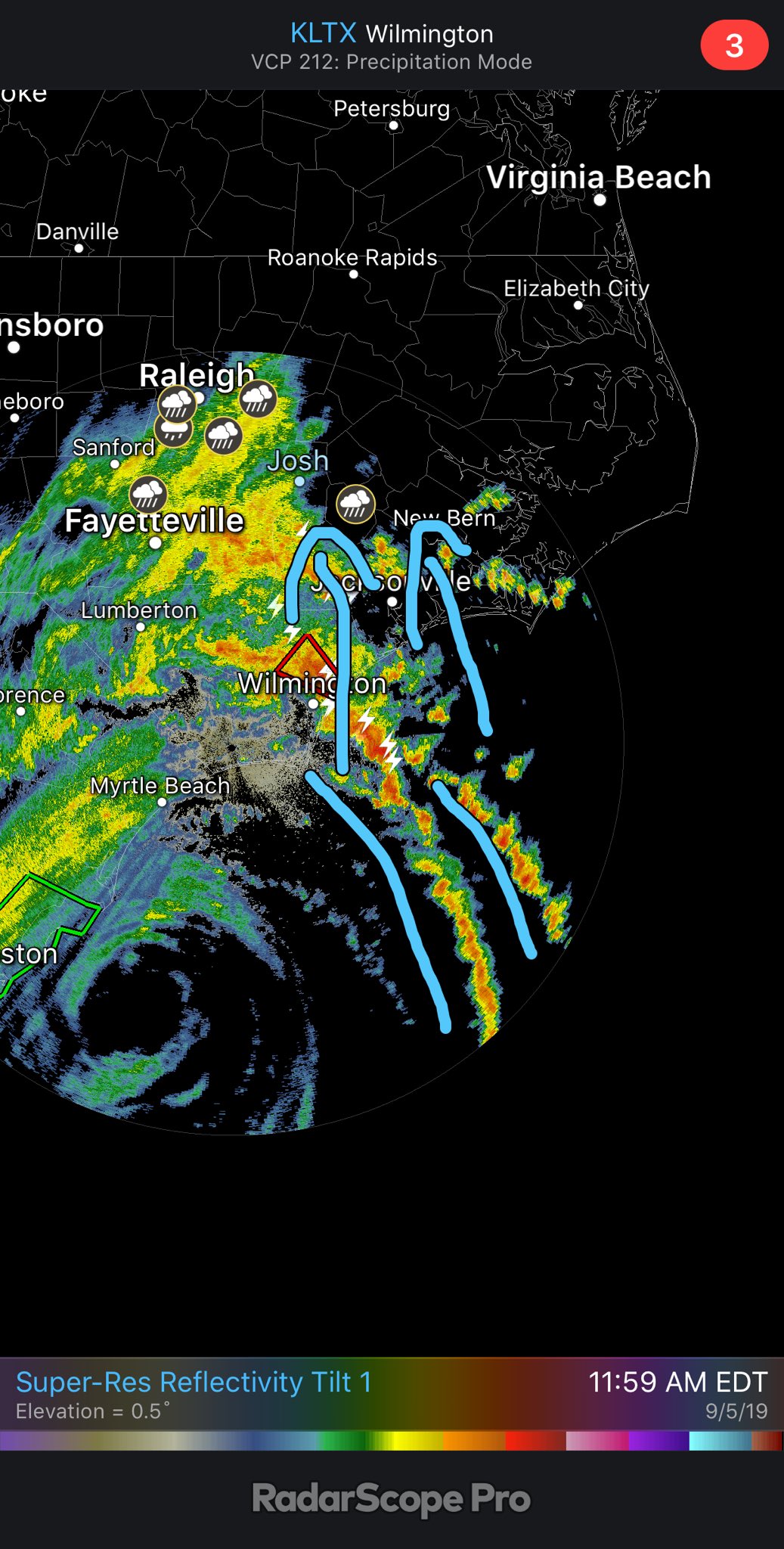 In the outer bands of Dorian there holds a large tornado threat. The SPC gave portions of North Carolina 15% chance for tornadoes. These feeder bands feed off of the warm water of the Gulf Stream. This can cause rotation in the atmosphere which will lead to water spouts and tornadoes over land.
Flooding
There already have been multiple tornadoes confirmed around the Wilmington area. Expect the worst of that threat to push northeastward to the Outer Banks tonight before the core comes ashore.
Flooding is also a major concern with this storm. The National Weather Service is predicting totals nearing 1ft near the core. The further west or east the core goes, the worst of the rain will follow.
Especially in the feeder bands coming off the coast that are nearly stationary flooding can happen for localized areas very quickly.
Overall it is urgent that you heed warnings from your local officials. Every aspect of this storm from the winds and tornadoes to the flooding are dangerous and potential deadly.
Stay safe and follow me @MikeBWeather on twitter for the latest updates regarding the storm. -Michael Barletta