(PM) — Yet another round of severe thunderstorms is set to impact the Mid-Atlantic on Wednesday. Last night, the northeast got a dose of severe storms as well as a few reported tornadoes. Wednesday will be similar with a higher potential of damaging winds and hail.
The Breakdown
Last night, the northeast got a rude awakening that severe thunderstorm season is upon the country. As the central part of the country has been continuously getting battered by storms and tornadoes, the northeast has generally been spared.
Today, there is an enhanced risk for storms for most of the Mid-Atlantic which is a 3/5 on the scale. This includes all of New Jersey, southern Pennsylvania, Delaware, and northern Maryland. Washington D.C., Philadelphia and New York City all reside within this enhanced risk.
Timing
Currently, short range models are expecting discrete cells to start popping up around 1-2pm in Pennsylvania, slowly moving east over time. These storms should reach New Jersey by about 5 pm and New York City just an hour or so after.
Storms will last until around 11 pm when they will move offshore into a more stable environment. This is why closer to the coast the risk for strong storms decreases. The stable air around the ocean helps limit the destabilization that the sun will cause today.
Currently, the areas at highest risk for tornadoes and storms are going to be for areas that are currently experiencing sunshine. The sunshine will help destabilize the atmosphere and prime it for storms to develop and rotate. This will make thunderstorms likely to impact the mid-Atlantic.
For those on the cooler side of the warm front, such as Long Island and the northern half of New Jersey and Pennsylvania, storms will likely have a tough time holding their strength.
My sweet spot for the worst thunderstorms currently would be southeastern Pennsylvania and southern New Jersey.
Tornadoes, Hail, Wind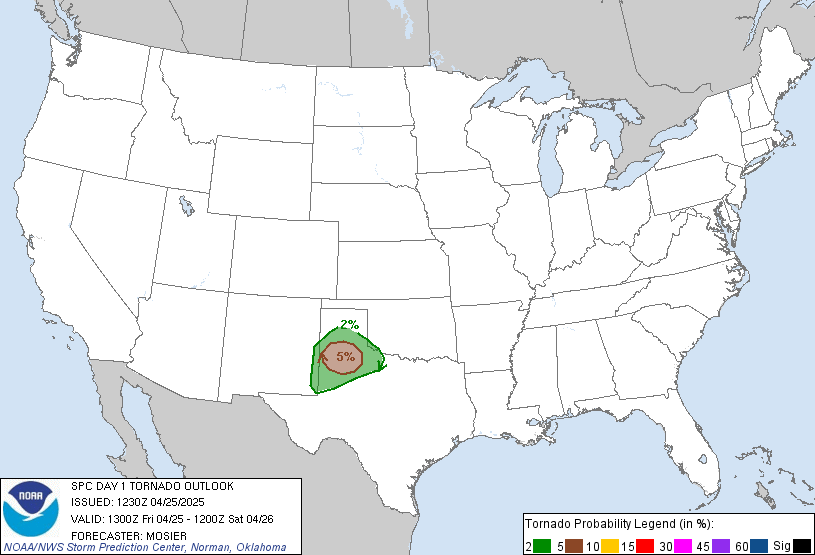 For areas in the enhanced risk, the SPC is expecting a five percent chance of a tornado. Currently, I do not expect any strong tornadoes in the mid-Atlantic as I do not see enough rotation in the atmosphere.
As for wind and hail, the SPC is designating a 30% chance for damaging wind or hail in the enhanced risk. Hail was reported a lot yesterday up to quarter sized in some areas and I expect that to be seen again today. Wind gusts up to and exceeding 60mph are possible in the strongest cells and could damage some weak structures.
As always keep up to date with your local National Weather Service office and head any watches or warnings that may be posted in your area.